In a period in which I have been able to enjoy life and my family I have been able to think a lot about what motivates me. I am pleased that from Monday January 22, 2018 I will get an active role as "OPEN BIM program manager" at Graphisoft. The software of this, originally, Hungarian company has for years been among the best in class when it comes to supporting the open standards in the BIM world. My previous experiences at KUBUS with ARCHICAD have ensured that I became a fan, not only of the software but also of the company culture at Graphisoft. The management consists entirely of talented, very loyal people with a drive and vision that you seldom experience.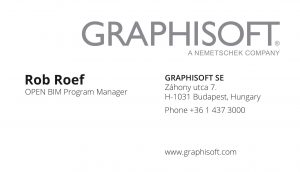 Although the company has the support of open standards and the adoption of open BIM in the genes, there is a clear need to better organize and coordinate the activities in this respect. In my new role I will serve the worldwide operating organization with advice, activities and support about OPEN BIM. I will explicitly monitor how the sometimes rather one-sided reporting from other providers can be converted into opportunities for the market. Ultimately, the entire sector will benefit from an unambiguous, objective approach to open standards.
In my new role I will represent Graphisoft in the buildingSMART community and stay active as Co-leader of the AirportRoom of buildingSMART International where I am always treated to enthusiastic stories about successful implementations of open BIM.
I am really looking forward to the opportunity offered to me and hope to be able to serve my network further by linking existing to new contacts. My network is your network, their knowledge is our knowledge!